"The Southern Green Belt of Russia" project
Due to climate change, new steppes and deserts appear on our planet — lands are degrading. People over-cut the forest, graze too many livestock on pastures, erosion and salinization of the soil occurs. As a result, the system is no longer capable of self-healing.
In Russia, the area of ​​such lands is about 1.2 million km²How can we stop steppe formation, desertification, and land degradation and protect the territory of our country?
We have launched the project «Southern Green Belt of Russia»It can concentrate precipitation, create a comfortable and humid micro-climatic environment, reduce wind force at the level of the surface air layer, and make the climate less arid, that is, less dry, and not like a desert one. If you plant species of trees that are resistant to arid climates, they will help equalize the average daily temperatures and dramatically slow down the steppe formation.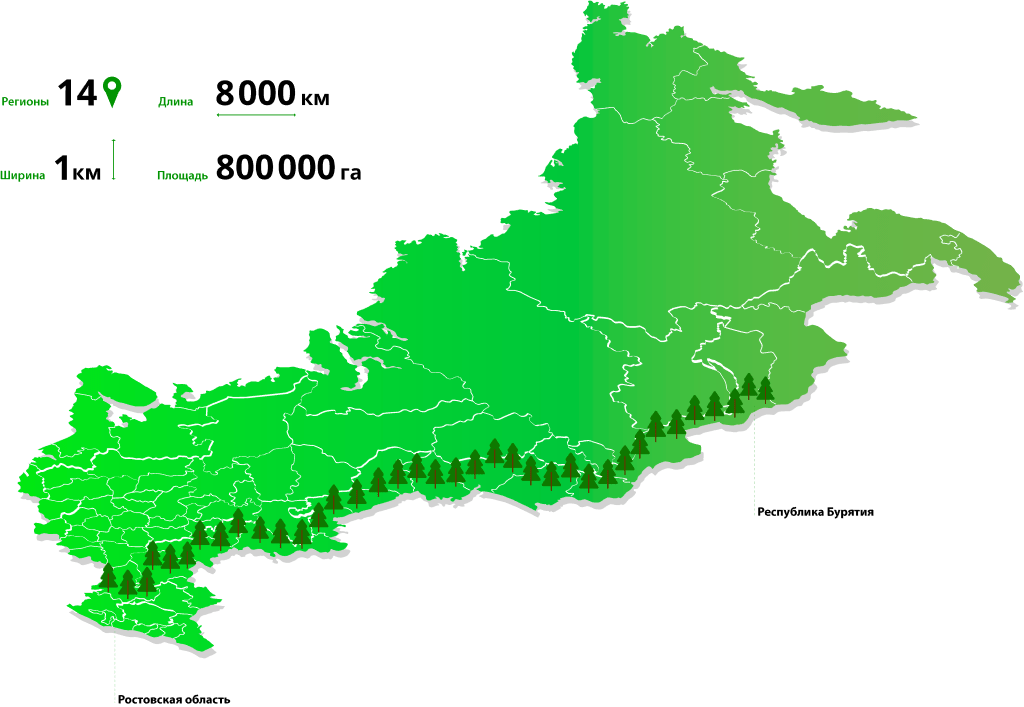 If this problem is not addressed, food security will decrease, hunger and poverty will arise. The associated social, economic, and political tensions can lead to conflict, further impoverishment, and even greater land degradation.
A forest strip about 1 km wide and 8,000 km long will stretch from the Rostov Oblast to the Republic of Buryatia. It will occupy an area of ​​800,000 hectares.
We will plant the forest belt in accordance with the mixed species of trees growing on each site. — from deciduous to conifers. Then, with the help of agricultural care, especially in the first 2-3 years of the seedlings' life, we will preserve the young forest.
Regions, в которых возникнет Southern Green Belt of Russia: 
Rostov Oblast

Volgograd region

Saratov Oblast

Samara Oblast

Orenburg Oblast

Chelyabinsk region

Kurgan Oblast

Tyumen Oblast

Omsk Oblast

Novosibirsk Oblast

Altai Krai

Altai Republic

Tyva Republic

The Republic of Buryatia
In connection with the latest changes in the legislation of the Russian Federation, the project can include private agricultural forests (Resolution of the Government of the Russian Federation dated September 21, 2020 No. 1509 «About the aspects of the use, protection, and reproduction of forests located on agricultural landsmeanings»).
You can support the project... Thanks to your donations, we will preserve the forests of Russia.
Mobile game
Understand the ecosystem of the forest.
#Lesomat
terminal with which you can plant trees